We take great pride in the service to our customers and have built our reputation on outstanding service.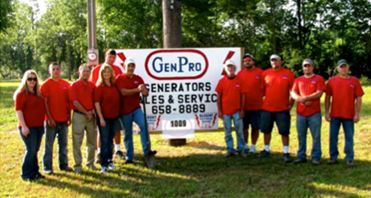 Breaking ground for our new office/ warehouse in 2010! Come by for a visit!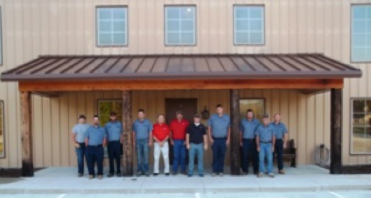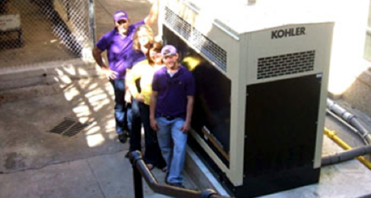 KOHLER generator we installed at LSU
Our Staff
Meet Team GenPro
‣ Scott Blount – Owner
The center spoke of this company. We wouldn't be here without his intelligence, drive and ambition.
‣ Susan Blount – Office Manager
You know what they say: "Behind every good man….."
‣ "Pappy" Robillard – Lead Installer
Never will you find a more loyal employee. Anything you need done, just ask Pappy.
‣ Patrick McRaney – Project Manager
Seeing your project through from ordering the equipment, taking care of permits and coordinating installation. Patrick is a great addition to our company.
‣ Josh Jackson – Installer
A hard worker and an all-around good guy. We are glad to have Josh as our employee.
‣ Robert Wesley – Installer
Every company should have a Robert. He works hard, never complains, and is always happy.
‣ Jake Parsons – Service Manager
A young man that took on a big responsibility and is doing a great job. We are proud of you, Jake.
‣ Kenny Rowe – Generator Mechanic
Kenny can fix anything. Enough said.
‣ Justin Mulkey – Generator Mechanic
Talented and experienced generator mechanics are hard to come by. We are glad to have Justin on our team.
‣ Ashley Booty – Administrative Assistant
If it needs to be quoted, invoiced, paid or deposited, Ashley's your girl.
‣ Warren A. "Joe" Kelley P.E. – Chief Engineer
Design and system review, Code evaluation, Value engineering of customer design, Evaluation of remote data acquisition systems for remote generator systems, Assist mechanics and techs in troubleshooting complex operational issues, Preparation and presentation of bid package to customer representatives.
Registered Professional Engineer, State of Louisiana
Certified Plant Engineer, Assn of Plant Engineers
Registered Technical Analyst, La ICP 369
‣ Juan Valenzuela – IT Consultant
If it weren't for Juan we would still be doing everything by pen and paper and snail mail. Thanks for bringing us into the future!
[powr-contact-form id=genpro-contact]