We take great pride in the service to our customers and have built our reputation on outstanding service.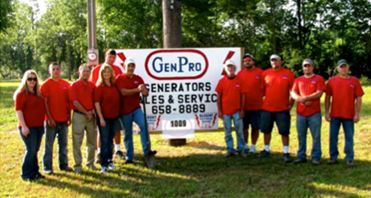 Breaking ground for our new office/ warehouse in 2010! Come by for a visit!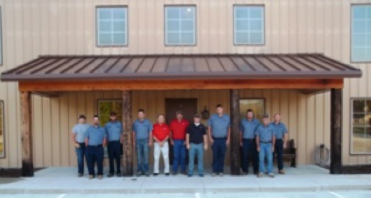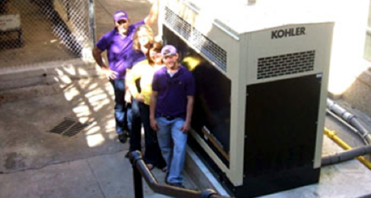 KOHLER generator we installed at LSU
Our Staff
Meet Team GenPro
‣ Scott Blount – Owner
The center spoke of this company. We wouldn't be here without his intelligence, drive and ambition.
‣ Susan Blount – Office Administrator
You know what they say: "Behind every good man….."
‣ Jake Parsons – Service Manager
Overseeing day to day operations of a service department is a big responsibility and Jake does a great job. We are proud of you, Jake!
‣ Ashley Booty – Office Manager
 Managing an office is a demanding position requiring a diverse set of skills. Ashley thrives in this role.
‣ Tabitha Johnstone- Project Coordinator
Seeing your project through from ordering equipment, taking care of permits, and coordinating installation. Tabitha is a great addition to our company. 
‣ Vivian Jones – Service Coordinator
Coordinating schedules between the service manager, generator mechanics, and customers is no simple task. Vivian makes it look easy.
‣ Justin Mulkey – Senior Generator Technician
Talented and experienced generator mechanics are hard to come by. We are glad to have Justin on our team.
‣ Kenny Rowe – Generator Mechanic
Kenny can fix anything. Enough said.
‣ Adam Rowe – Generator Technician
 An all around nice guy, Adam does a great job of upholding our customer service standards. 
‣ Paul Dubroc- Generator Technician
Luck of the draw brought this experienced mechanic to us. Welcome to the team Paul! 
Registered Technical Analyst, La ICP 369
‣ David- Warehouse Technician
Accepting shipments and preparing equipment for delivery to our customers is just one of the things David does in our warehouse. He also provides facility maintenance and keeps our place looking nice.